I am new the world of "linky parties" but I'm having fun learning!
I was featured for the first time EVER anywhere by Dragonfly Designs! Whoo hoo!

Check out her great party and blog!
Also relating to linky parties:
Today I 'm joining a "We Want to Know Wednesday" link party hosted by: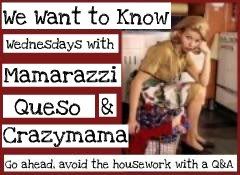 Here are the questions:
1.} What must you do before you go to bed at night?
I have to brush my teeth and wash my face. I can't stand going to bed feeling dirty. Also I read my Bible.
2.} What is one thing you must snack on at the theater?
Popcorn! :D
3.} Before going on vacation what must you do?
Vacation? What's that? ha ha. Living on a farm, that becomes a rare word. I would need someone to look after the animals and a huge suitcase. I can't pack light. I love going on day vacations and shopping in cute little shops. I love small towns.
4.} What is one thing you must do every day?
I must have some down time. I'm a busy girl and if I don't get that time to be by myself and relax I get crabby. Ha ha.
5.} Is there something you do that must be done in a particular order?
I have to wash my hands and change diapers in a certain order at work. I work in the infant room. Also I like schedules… when they are mine. :) ha ha. I like order in my day.
What about you?